Group News
Rory Best hits the €1million mark for Cancer Fund for Children
01 June, 2023 |Ardonagh Group | Ardonagh Community Trust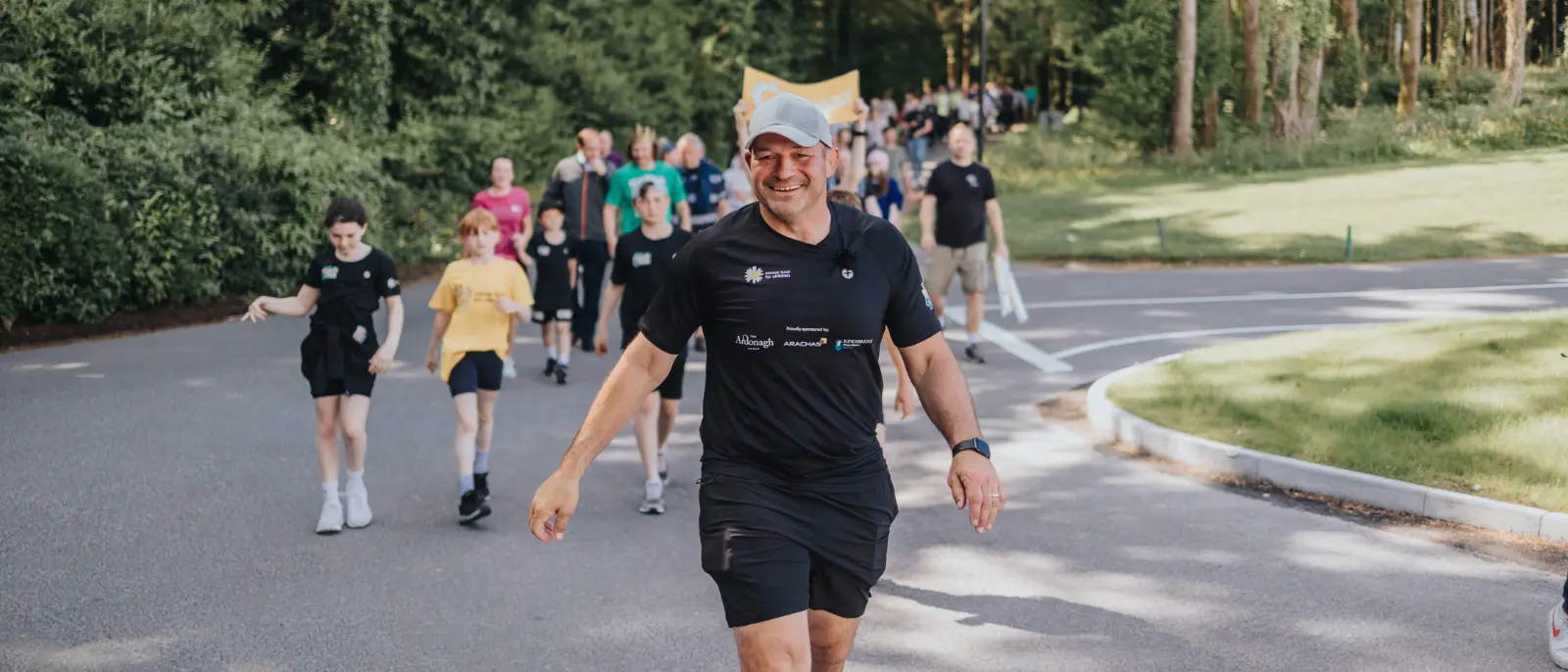 Last week, Ardonagh Business Development Director, ACT Trustee and rugby legend Rory Best completed his epic Miles 2 Mayo walking challenge in support of Cancer Fund for Children, raising an incredible €1,000,000 – with more donations still to come.
Starting out from the Aviva Stadium in Dublin on the 16 May, Rory and his wife Jodie walked 330km through counties Dublin, Kildare, Laois, Tipperary, Limerick, Clare, Galway and Mayo over ten days. Along the way, they were joined by some of the families that are supported by Cancer Fund for Children, some former teammates, various public figures, other sporting heroes and sponsors and supporters of the cancer charity.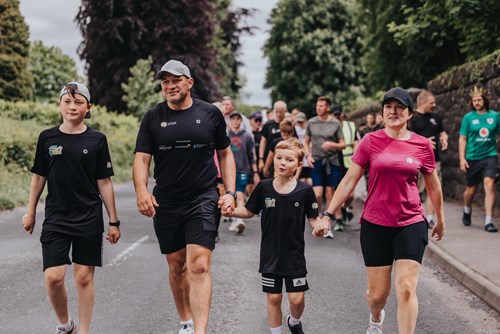 Rory and his family followed by their army of supporters on their Miles 2 Mayo challenge.
A special mention to all our Arachas colleagues who got involved right from the start, whether it was cheering by the roadside, shaking donation buckets,  organising local events - including a star-studded breakfast and panel discussion at Thomond Park in Limerick and an Arachas hosted Welcome to Rory to Eyre Square in Galway – or sharing this amazing challenge with friends, family and clients to drum up donations. The team together with their clients have contributed a huge €68,000 raised to date, with more events to come.
In addition, ACT, Ardonagh's registered charity, is delighted to be contributing an additional £50,000 (€58,000) in recognition of Rory and the wider Arachas team's amazing contribution to this stand-out cause.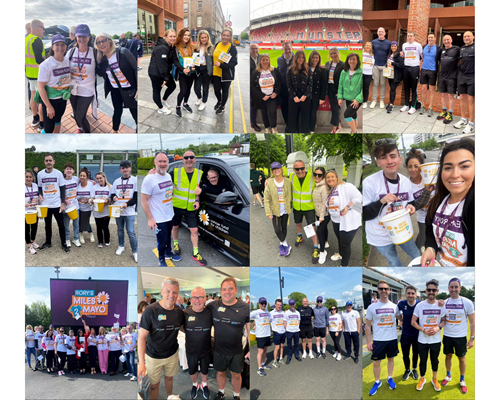 The Arachas teams in their 'Team Rory' shirts got involved with fundraising throughout the 10 day challenge and beyond!
The funds raised by Rory's Miles 2 Mayo 2023,  will help Cancer Fund for Children continue to expand its services across the island of Ireland and progress with the building of Daisy Lodge, a respite centre providing much needed breaks for children and their families. Daisy Lodge County Mayo will be the charity's second centre, together with Daisy Lodge in County Down, which opened in 2014.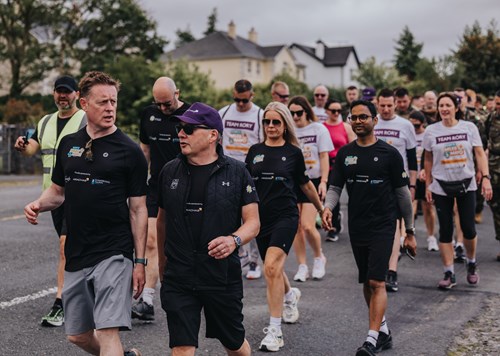 Pictured above (L-R), Phil Alexander, Cancer Fund for Children CEO, Des O'Connor CEO - Ardonagh Global Partners, Andy Wallin Group M&A Director, Conor Brennan CEO of Ardonagh Europe & Arachas Corporate Brokers, Kelly Ann Knight Ardonagh Chief of Staff and Bhav Patel Chief Strategy Officer, Ardonagh Specialty followed by 'Team Rory' from Arachas.
"There have been many highlights throughout my professional career but the last 10 days have been incredibly special. I have met so many inspirational children and families who are navigating a childhood cancer diagnosis and heard some heart-breaking and inspiring stories from children, parents, and health professionals. Their experiences helped keep me motivated along some of the more challenging parts of my journey.
My walk may be complete but the fundraising efforts continue. Please give as generously as you can to support Cancer Fund for Children and help ensure no child or young person on the island of Ireland has to face cancer alone." said Rory at the end of his challenge.
"Whilst the care children diagnosed with cancer receive in hospital is excellent, it is clear that they really benefit from the emotional and therapeutic support provided by Cancer Fund for Children. Short breaks at Daisy Lodge provide children with cancer, a space to rest, time with their families and the opportunity to build connections with others their own age who are going through the same thing. They get to be treated like the stars they are and that's why I've gone the distance to help bring a therapeutic facility like this to Co. Mayo.  I would like to give special thanks to The Ardonagh Group, Arachas Corporate Brokers and Kingsbridge Private Hospital for sponsoring my challenge and making this possible."
At the finish line, Rory, together with Jodie, turned the first sod on the site where Daisy Lodge County Mayo will be built. A fitting end to a mammoth challenge.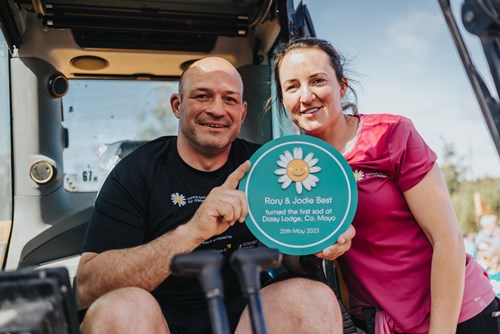 Rory with his wife Jodie, just after making the first dig at the site of Daisy Lodge, County Mayo – the finish line of their 10 day walk.
Speaking about the walk, Phil Alexander, CEO, Cancer Fund for Children said, "Every week across Ireland, 10 children and young people (aged 0-24) are diagnosed with cancer"
"Our mission is simple, to help ensure that no child or young person has to face cancer alone. We cannot thank Rory and his wife Jodie for all they have done to drive awareness of this cause and raise much needed funds to build our second Daisy Lodge in Cong Co. Mayo. We understand the devastating impact a cancer diagnosis and its treatment can have on the whole family, and that beyond the essential medical care, many families need social and emotional support which is why we are also developing community services across the island of Ireland and building this second therapeutic short break centre.
"Each year, Cancer Fund for Children supports over 1,500 children and young people and 500 families impacted by cancer with therapeutic short breaks at Daisy Lodge in Newcastle Co. Down, the inspiration for our second centre which will be built on the shores of Lough Corrib in Cong. Once Daisy Lodge Mayo is operational, we will be able to support more than double the number of families each year."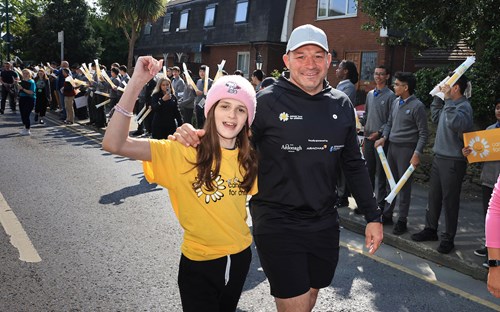 Naomi Howlin (14) from Wexford, who is currently being supported by Cancer Fund for Children with Rory at the start of the walk.
David Ross, CEO of Ardonagh reflected on the event and shared, "I was privileged to join Rory on both the first and last day of his challenge and the energy and enthusiasm that surrounds him is unmatched. It was incredible to see that the support never wavered and the atmosphere when he crossed that finish line was electric. Sponsoring this event alongside Arachas was one of those moments where you realise the power of what we can do when we come together.
Let's not forget though the reason Rory and many others get behind causes like this are because of the stories of those who have sadly been impacted by cancer. Not only is it life-changing and sadly sometimes heartbreaking, it also truly impacts the entire family. Charities like Cancer Fund for Children really do give people a break from all the challenges a diagnosis brings, and I'm delighted we've been able to help get them that bit closer to their target to open a new centre."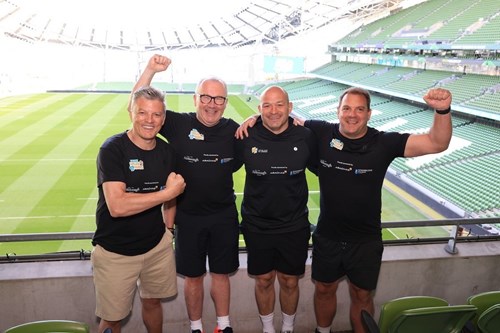 Rory (centre right) just before he set off from Dublin alongside David Ross, CEO, Ardonagh Group; Connor Brennan, CEO, Ardonagh Europe; and Antony Erotocritou, CEO, Ardonagh Specialty.
Spotlight on Cancer Fund for Children
Cancer Fund for Children is there to help, guide and support families through their services including individual support, group support and therapeutic short breaks. Thorough this work Cancer Fund for Children helps to empower family members, so they feel better equipped to cope with the emotional impact of cancer.
Funds raised through the Rory's Miles 2 Mayo campaign will go towards the building of Daisy Lodge in Cong, Co. Mayo, a therapeutic short break centre for children impacted by cancer and their families.
This will be Cancer Fund for Children's second therapeutic centre, inspired by Daisy Lodge in Co. Down which has supported over 3,300 families from across the island of Ireland since it opened in 2014.
Find out more on the Cancer Fund for Children website and you can help Rory get to his fundraising target of €2Milllion on the Miles 2 Mayo website.
Latest Articles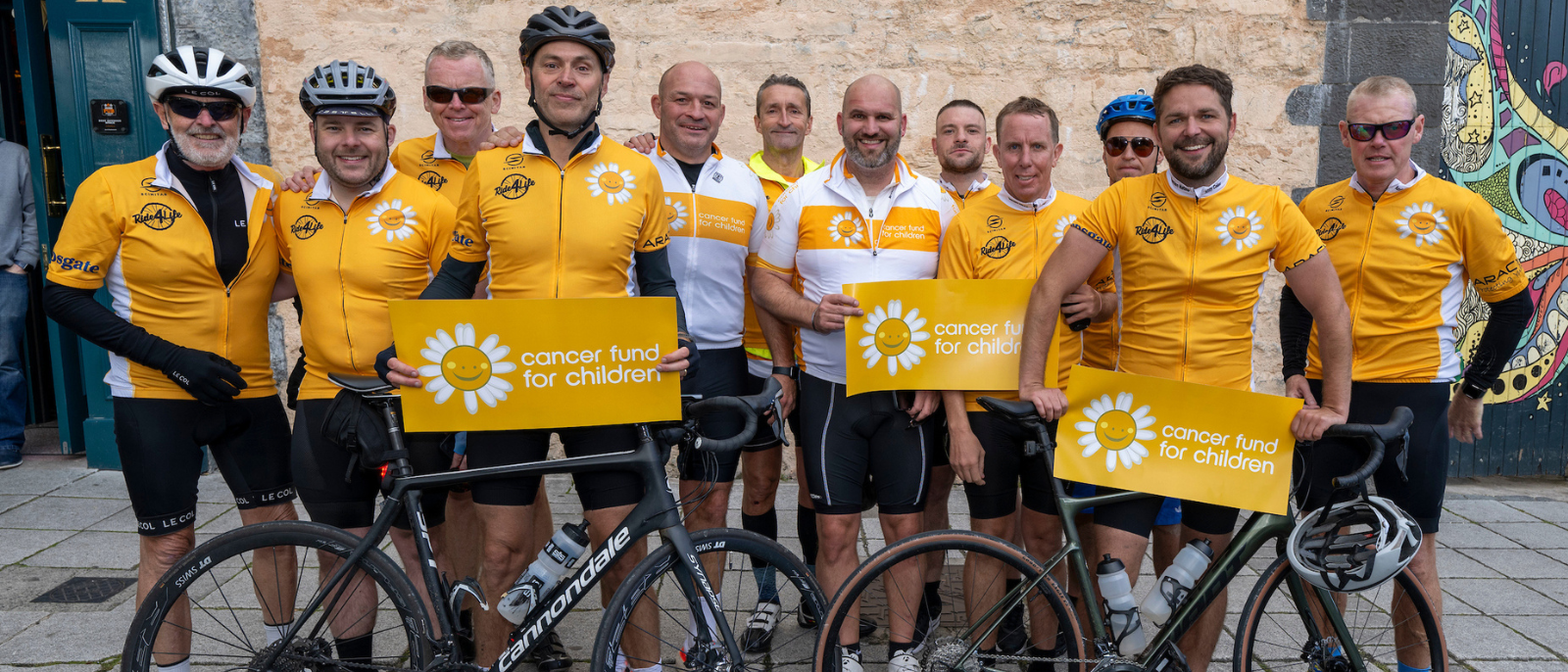 From Galway to Cong and back again! Ride4Life 2023 raises £20,000 on the Emerald Isle
On Friday 22 September, the Ride4Life team once again donned their Lycra and in the ride's seventh year, travelled to Ireland to complete a 133-mile route from Galway and along the Wild Atlantic Way in aid of Cancer Fund for Children.
26 September, 2023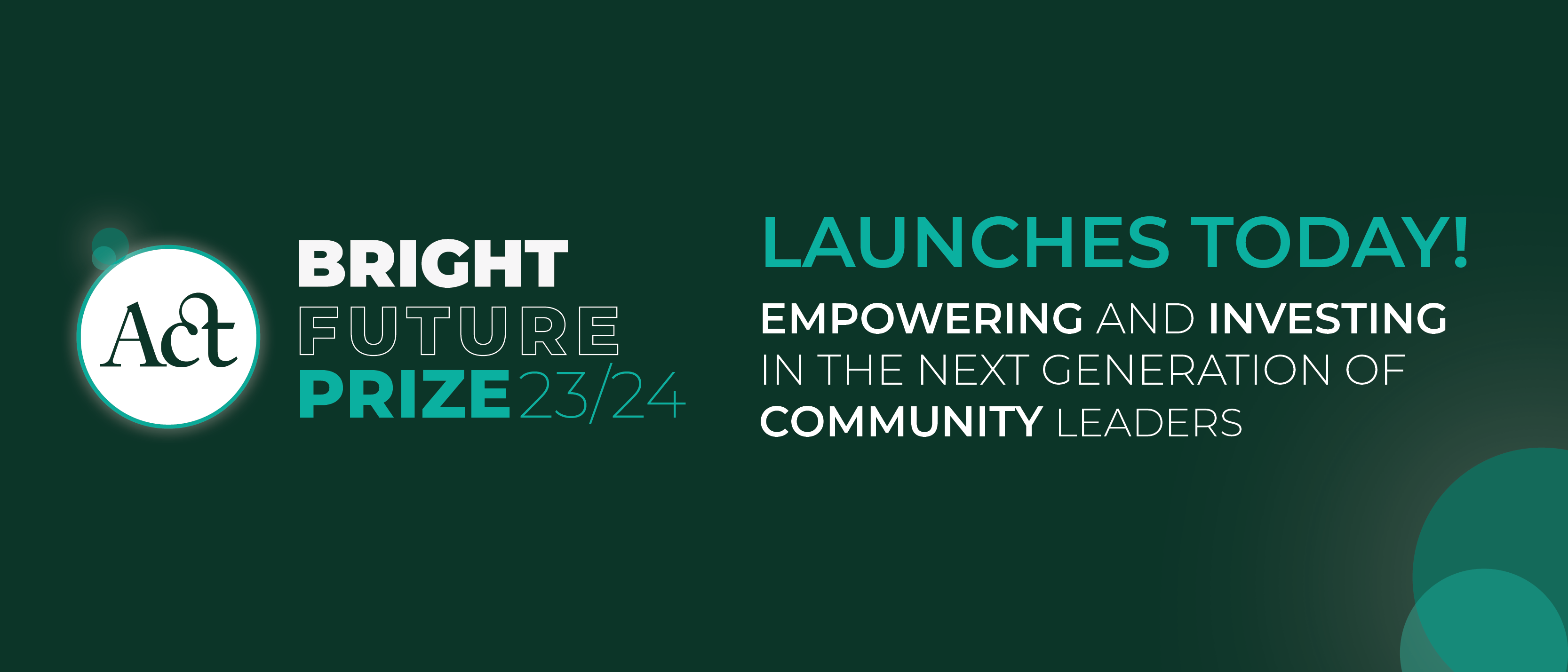 ACT's search for the next generation of community leaders begins
The ACT Bright Future Prize 23/24 is officially open for applications – searching the world for inspiring young people aged 13-19 with dreams to lead change in their communities and through the £40,000 prize fund, helping to turn them into a reality. Find out more about prize and how teens can enter their bright ideas.
18 September, 2023