Five-fold growth in five years since the Group's formation
 The Ardonagh Group ('Ardonagh' or the 'Group') today announces its financial results for the 12 months ending 31 December 2022, a year that marked five years since the formation of the Group.
Financial Highlights
FY 2022 Pro Forma income of $1.8 billion (2021: $1.4 billion) and Adjusted EBITDA of $594 million (2021: $512 million), including completed and committed acquisitions, together with annualised growth and savings initiatives.


Group reported income up 30% to $1.5 billion (2021: $1.2 billion) and Adjusted EBITDA up 22% to $476 million (2021: $390 million).


Continued focus on diversifying across products and markets – combining the strength of our established UK platforms with significant momentum in Specialty and International, which now account for over 45% of Group income. In 2022, organic income growth was 16% in Specialty and 19% in International.


The Group has raised over $1 billion of combined equity and debt from our existing investors since the beginning of 2022, to support our inorganic activity.
Group Highlights
Completed and exchanged on 39 acquisitions since the beginning of 2022. This includes new platforms in Portugal and Latin America, the Netherlands and Australia through the acquisitions of MDS, Léons and Envest respectively.


M&A pipeline remains active with over 70 transactions, the vast majority on a bilateral basis. The annualised value of the pipeline is over $100 million of EBITDA.


Strong and growing returns from the significant investment made in data and placement, with capacity strategy initiatives executed to date expected to generate in excess of $25 million EBITDA, creating an excellent backdrop for future growth.


The Ardonagh Group welcomed 1,189 new colleagues (excluding M&A) during 2022 and the number of Ardonagh colleagues who are shareholders in the Group doubled to over 10% (1,100) in 2022.


Over $2.5 million raised for Ardonagh Community Trust (ACT), including over $1 million from colleagues and shareholders. In 2022, ACT and colleagues gave over $800,000 to charitable organisations and causes through community grants and donations.


Inaugural sustainability report launched today, detailing Ardonagh's progress and commitments under the pillars of People, Society, Environment, Integrity, and Innovation.
Platform Highlights
Specialty – Excellent trading momentum following completion of the integration of BGC's insurance assets. Continued the inflow of talent including 200 trading hires in 2022. $60 million of EBITDA growth to be realised from teams we have hired.


International – Successful execution of our international expansion strategy, with transformational acquisitions in Portugal and Latin America, the Netherlands and Australia, through MDS, Léons and Envest respectively. During the year Arachas became the largest broker in Ireland with six acquisitions including Glennon Insurances.


Advisory – Organic income growth of 7% through strong trading in our core products and significant investment in our health insurance brands. Strong M&A momentum focusing on specialisms and additional client services.


Retail – Resilient performance against the backdrop of unprecedented market volatility with 2.5 million annual policies and continued investment in product innovation, data enrichment and Voice of the Customer programme.
Group Chief Executive David Ross commented: "Ardonagh was created to build a high-quality global platform comprising client focused, specialist broking businesses, with a London Specialty business at its heart.
"Our development from a regional UK-centric business in 2017 to one which isn't reliant on any single economy has provided us with substantial opportunities for growth, as well as resilience against macroeconomic headwinds.
"Our regional UK platform was the bedrock for the development of Ardonagh into the diversified and vibrant marketplace that it is today.
"In 2021, we fulfilled our ambition to create the largest independent broker in London with a transformational acquisition of BGC's insurance operations. Integration is largely complete, having taken the time to consult with our staff, markets and clients before unveiling our new offering to the market. Our Specialty business is now operating as open market Broking (Price Forbes) and Programmes (Bishopsgate), with reinsurance capabilities brought together in our newly launched business Inver Re.
"From our first international acquisition in 2020, Ardonagh International has been a priority for investment and finished the year as a $88 million Adjusted EBITDA unit, growing both with platform and niche acquisitions and powering further expansion by local leaders in those businesses.
"In the UK, our Advisory business was buoyed by a growing demand for private healthcare, while the Retail business successfully adapted to the FCA market reforms and continued to innovate on product and data enrichment.
"2022 topped out the vision we had five years ago. We have assembled the foundations and now enter our next phase of growth, driving our internal specialisms and placement opportunities, making accretive acquisitions to our established platforms, leveraging our buying power, and learning from each other to optimise performance across the Group."


Group Chairman John Tiner said: "The Ardonagh Group has been on a significant journey since it was founded, evolving to reflect the needs of our clients, colleagues, and the wider world around us. Our success is due in no small part to Ardonagh's ability to adapt, collaborate and innovate across our increasingly diverse set of leading businesses.
"The financial update we report today is ultimately only possible because of our 10,000 colleagues, and the strong pride they take in their work with clients, together with their appetite to always look for opportunities to better serve them. This is the purposeful culture that continues to underpin Ardonagh across six continents."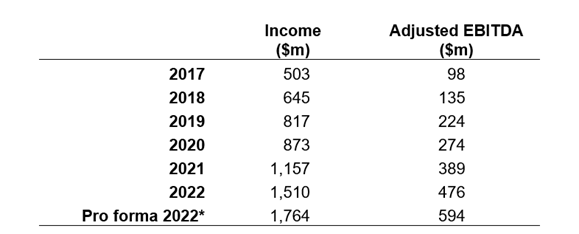 *Pro forma for all material acquisitions completed or contractually committed to 20 March 2023, including expected cost synergies.
 Currency translated at USD/GBP 1.2233
ENDS
Notes to Editors
THE ARDONAGH GROUP
The Ardonagh Group is the UK's largest independent insurance distribution platform and a top 20 broker globally. We are collection of best-in-class entrepreneurial and specialist brands with a network of more 150 locations and a combined workforce of more than 10,000 people. Across our portfolio, we offer a highly diversified range of insurance-related products and services across the full insurance value chain in the UK, Ireland and broader international markets. From complex multinational corporations to individuals purchasing personal insurance policies, our understanding of the partners to deliver a broad range of product and risk solutions that meet customer needs.
Latest announcements
Senior management update
The Ardonagh Group today announces the following changes to its senior management team for 2024
06 December, 2023